News & Events
Press Releases
Nomination News Publications:

Past Events:
January 21, 2011: Event Celebrating the Completion of the World Heritage Nomination Dossier.
Click here for more information...
November 18, 2010: Acadian Youth Creative Art Challenge Celebration
Click here for more information...
July 12-23, 2010 at Grand pré: Grand-Pré Public Archaeology Experience.
Click here for more information...
July 23-25, and July 28, 2010 at Grand Pré: Grand Pré is hosting their Annual Acadian Days Festival. Click here for more information...
June 17 - 20 at Acadia University: 250th Anniversary of the arrival of the New England Planter's - Conference. Click here for more information...
April 17, 2010 to April 18th 2010: International Sites and Monuments Day: Agricultural Heritage

International Day for Monuments and Sites, celebrated around the world on April 18th and recognized by UNESCO, is an opportunity to acknowledge the diversity of cultural heritage that is shared by humankind. The day raises public awareness around the efforts that are required to protect and conserve world heritage, while drawing attention to its vulnerability. Each year, International Day for Monuments and Sites celebrates a different aspect of our collective heritage. The 2010 theme is agricultural heritage.

World Heritage Day Expert Symposium - Presentations: April 17, 2010
Alexandra Kruse - Agricultural landscapes as UNESCO World Heritage - Background, recent developments, strategies.
Susan Buggey- Living and Lived-In Landscape of the Canadian Prairies.

Graham R. Daborn- Trading Ecosystems: the ecological implications of marsh conversion.

January 21, 2010: Community Meeting

Hockin Cronin Associates presented the Tourism Strategy & Interpretation Framework of the proposed Grand Pré World Heritage Site. Residents of Grand Pré were able to ask questions and contribute their ideas in the development of a legacy project. Click Here to see the presentation.
August 2009: Congrès Mondial Acadien
The second and third week of August there will be representatives attending the Congrès Mondial Acadiens in New Brunswick to promote the project.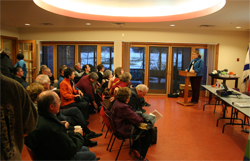 March 12, 2009: Open House
On March 12th, His Worship Lawrence Mawhinney, Mayor of Lunenburg, Councillor Gerald Read, Municipality of the County of Cumberland, Ms. Edna Boon, resident of Joggins, were invited for a panel discussion with the residents of Grand Pré to discuss their experience with living in a World Heritage Site and answer questions.