About Nomination Grand Pré
Our Purpose
This project aims to bring those with a connection to Grand Pré together to celebrate and steward the outstanding universal value that makes this place special and worthy of sharing with the world. We submitted a proposal for the nomination of Grand Pré as a World Heritage Site to UNESCO in February 2011.
Our Logo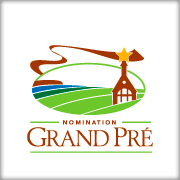 Our logo illustrates the important aspects of Grand Pré that we believe are important for the world. The light green landscape lined with a dark green and blue colour represent the fertile farmland and the dykelands first created by the Acadians in the 1680s, and later maintained by the Planters and their descendants after their arrival in 1760. The church and the star represent the Memorial Church and the other Acadian symbols of Grand Pré that are important reminders of the way the Acadians have overcome the tragedy of the Deportation. The colours green, blue, and brown, and the flat land with Cape Blomidon in the distance speak to the human interaction with a distinctive environment made up of wetlands, uplands, and dykelands and illustrate the incredible fertility of the land.
All these elements together unmistakably represent Grand Pré.
Our Phrase
"One land. Many stories. A shared legacy." reminds us that Grand Pré is a place that is special for many peoples, from diverse backgrounds. Together, we celebrate and care for the land that unites us.
Our Partnership
An Advisory Board was set up to lead the project. It is co-chaired by the Société Promotion Grand-Pré and the Kings Community Economic Development Agency. It includes a number of people representing the local residents, the business community, the tourism association, the Marsh Body, the heritage community, the Acadian community, the Mi'kmaq, the three levels of government.
The Steering Committee includes the co-chairs as well as the municipal planner, the project manager, and a representative of the provincial government. Their role is to carry out the day to day operations and make recommendations to the Advisory Board.
In addition, Working Groups are set up to assist the project on technical matters. Currently two working groups were set up: one on the Outstanding Universal Value, which completed its work in January 2009, and another on the management of the proposed property.